The Howe Military Academy campus, once a bustling hub of activity, now stands in eerie silence. The manicured lawns spanning the 63-acre institution remain impeccably groomed, but the lively presence of students is notably absent. The timeless bells within the tower of Howe's St. James Chapel, a venerable structure dating back 117 years, continue to chime the hours, but almost no one is there to hear their melodies.
This was once one of the best military schools in Indiana.
Brief History of Howe Military School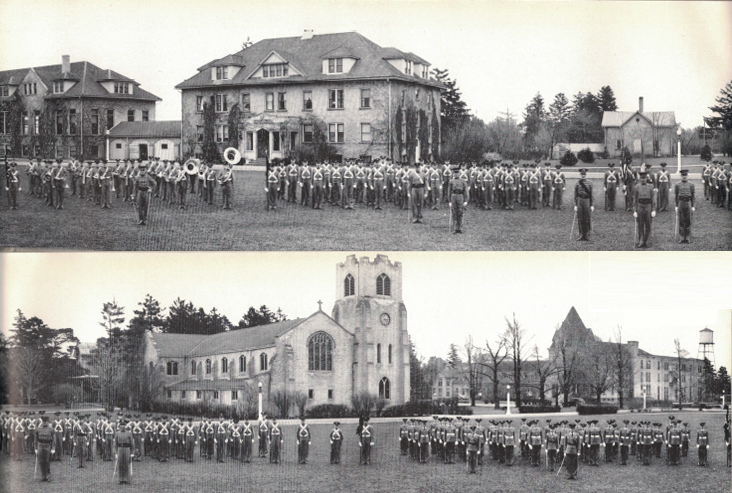 Howe Military School, a distinguished institution situated on a stunning 100-acre campus in the idyllic town of Howe, Indiana, had a rich and storied history that began with its establishment in 1884. This private, co-educational, and college preparatory boarding school was not just a place of learning but a crucible where young minds were forged into pillars of discipline and scholarship. Regrettably, the school ceased its operations after the 2018-19 academic year, but its impact and legacy continue to resonate.
John Badlam Howe, a prominent banker, lawyer, and politician, left a generous bequest that birthed this institution. Originally, the school was conceived as a preparatory ground for young men aspiring to be ordained as priests in the Episcopal Church. However, its doors soon swung open wide to welcome students of all faiths and backgrounds, embodying the true spirit of inclusivity and education for all.
What made Howe Military School stand out was its dedication to academic and military excellence. It was a place where books and uniforms shared equal importance, nurturing both the intellect and character of its students.
Academics and Extra-curricular Activities
Howe Military School's reputation rested on two pillars – a rigorous academic program and a steadfast emphasis on character development. Its curriculum was a fusion of college preparatory courses, military training, and leadership development programs. Here, students weren't just encouraged to memorize facts; they were nurtured to become well-rounded individuals who possessed not only knowledge but also the virtues of integrity, discipline, and leadership.
You might have heard the saying, "All work and no play makes Jack a dull boy." Well, Howe Military School knew how to strike that balance. The students had their share of sports, arts, and other extracurricular activities to ensure their holistic development.
Education wasn't confined to the classroom. The school offered an array of extracurricular activities that enriched the students' lives. From athletics, and nurturing budding sports stars, to music and the arts, where creativity was unleashed, students had a canvas to paint their passions.
The Alumni of Howe Military School
The alumni of Howe Military School were a testament to the institution's commitment to nurturing greatness. The list included remarkable individuals such as Web Hayes, the grandson of President Rutherford B. Hayes, and William Ball, a vice president of the Ball Brothers Co. Not to forget Thomas Parker, the inventor of the beloved ice cream Drumstick. These alumni carried with them the values and principles imbibed at Howe, leaving an indelible mark on their respective fields and communities.
Last Days at Howe Military School
However, despite its remarkable history, Howe Military School, in 2019, had to bring its journey to a close, succumbing to challenges of declining enrollment and financial difficulties.
In March, Colonel Tom Tate, Howe's first-year president, delivered the heart-wrenching news that the school would conclude its venerable 135-year journey by June. This decision cast a shadow over the hearts of the countless men and women who once proudly wore the Howe Military Academy cadet's uniform. Among them, Hugh Cook, a member of the Class of 1966 and former developmental director for the school, lamented, "It just broke my heart."
Regrettably, the news hardly surprised most Howe alumni, who had seen the writing on the wall. Charlie Snouffer, a graduate from the Class of 1972, expressed, "Yeah, we kind of saw it coming."
Howe Military Academy, once lauded as one of the premier military academies in the United States, joins the ranks of American military high schools that have shuttered their doors. Just last February, officials at St. John's Military School in Salina, Kansas, revealed that they, too, were closing the doors of their 131-year-old institution this year. Once, more than 125 military academies were scattered across the American landscape, but now fewer than 25 remain.
The crux of the matter is that Howe found itself financially challenged. The upkeep of the expansive campus proved too costly, and the operational expenses outweighed the income generated by the school.
In March 2019, the Howe Board of Trustees President, Phil Malone, disclosed that the board had been spending a staggering $330,000 per month to sustain the institution. Over the past decade, Malone revealed that the board had entirely depleted the school's $22 million endowment fund to keep it afloat.
It appears that Howe's history had finally caught up with the school. The newest buildings on campus were over half a century old, and the steam plant was even older. Yet, for those who held Howe closest to their hearts, the institution's decline was more complex than running out of funds.
Colonel James Benson, a specialist in turning around military schools who occupied the superintendent's seat during the 2018-2019 school year, expressed his sobering insight. He believed that by the time he arrived at Howe, the school's fate was sealed, saying, "It was too late to save it, in my opinion."
But the story doesn't end there. The campus found new life in the hands of a private company. It now serves a diverse array of purposes, from hosting conferences that bring people together to serving as a picturesque venue for weddings and even accommodating a private school designed to cater to students with autism. The echoes of learning and growth continue to reverberate in these hallowed halls.
While the school may have locked its doors, its legacy lives on, not just in the fond memories of its alumni but also in the tapestry of the Howe community. It is a testament to the enduring impact of quality education and character development. The lessons learned at institutions like Howe are not ephemeral; they are seeds that continue to bear fruit in the lives of those fortunate enough to be a part of its rich heritage.
References