Marmion Military Academy is a well-established institution, like a sturdy oak tree rooted in the educational landscape. Nestled in Aurora, Illinois, Marmion is more than just a school; it's a crucible of discipline and excellence. The school is among the top list of Military Academies in Illinois.
Picture it as a symphony of tradition and modernity, where young minds are sculpted into leaders. The academy is akin to a watchful eagle, shaping character, courage, and integrity in its cadets. It's a place where the call of duty is a clarion bell, and honor is a golden standard.
Marmion's ethos resembles a forge, where students are refined like precious metals. With a rich history dating back to 1933, it's like a treasure chest of tradition and honor codes.
Marmion's commitment to academic rigor and physical fitness is as unwavering as a lighthouse beacon on a stormy night. They don't just educate, they nurture and inspire, much like a gentle rain that breathes life into parched lands.
The academy's military heritage isn't just a uniform; it's a crucible that forges leaders. Students walk away not just with knowledge but with the courage to face life's battles, making it a gem in the world of education.
Marmion Military Academy is more than a school; it's a bastion of character, where young minds are polished into diamonds, ready to shine in the world.
Brief History of Marmion Military Academy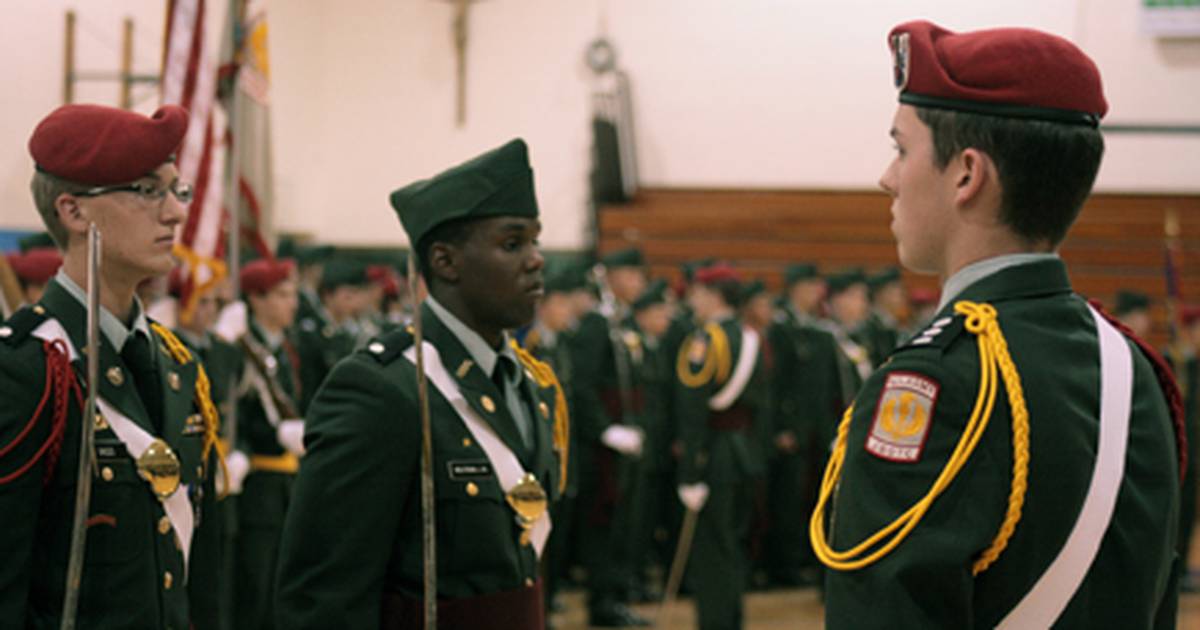 The Benedictine monks of St. Meinrad Abbey in Indiana founded Marmion Academy in 1933. At that time, it was in Aurora, Illinois, where Fox Valley Catholic High School stands today. However, in 1959, the academy shifted to its current 325-acre campus in Aurora.
Marmion Academy's purpose is to offer a strong college preparatory education to young men in a Catholic environment. Their mission is clear: they aim to educate young men to be leaders in the service of God and others.
Marmion Academy has a robust military tradition. In 1935, the school aligned itself with the Junior Reserve Officer Training Corps (JROTC) program. Notably, it's one of the few all-boys Catholic schools in the United States with a JROTC program.
Academically, Marmion Academy boasts a long and illustrious history of excellence. Graduates from this institution often find their way to some of the most prestigious colleges and universities across the nation. Additionally, Marmion Academy is renowned for its successful athletic program, having secured numerous state and national championships.
Marmion Academy is highly esteemed, and rooted in a rich history. It's an excellent place for young men to receive a rigorous college preparatory education and cultivate the leadership skills essential for success in life.
Acceptance Rate
This is a selective school, with an acceptance rate of around 20%. Marmion Academy seeks academically motivated students who actively participate in extracurricular activities and are dedicated to the school's mission.
How to Apply and Join Marmion Military Academy
To apply to Marmion Military Academy, you should take the following steps:
Create an Account: Begin by visiting the Marmion Academy website and setting up your own account.
Admissions Section: Go to the "Admissions" section on the website and locate the "Apply Now" button.
Online Application: Fill out the online application form and submit the required fee.
Transcripts: Contact your current school and ask them to send your transcripts directly to Marmion Academy.
Letters of Recommendation: Request letters of recommendation from one teacher and another adult who knows you well.
Entrance Exam (for incoming freshmen): If you're entering as a freshman, arrange to take the entrance exam.
Interview (for transfer applicants): Transfer applicants should schedule an interview.
The application deadline for the 2023-2024 school year is January 18, 2023.
Here are some valuable tips for your application:
Start Early: Commence the process well in advance as it can be time-consuming.
Thoroughness: Pay close attention to detail and complete all sections of the application accurately.
Extracurricular Activities: Marmion Academy values students who actively participate in their communities and schools, so get involved.
Entrance Exam Preparation: If you're facing an entrance exam, make sure to study and prepare adequately.
Interview Readiness: For those who require an interview, practice answering common interview questions to present yourself well.
If you're accepted into Marmion Academy, you'll be expected to enroll in the Junior Reserve Officer Training Corps (JROTC) program. JROTC is a leadership program that educates students about citizenship, community service, and the military. It's a mandatory component of the Marmion Academy experience for all cadets.
Marmion Academy, with its high selectivity, offers a superb opportunity for young men to receive a challenging college preparatory education and cultivate the essential leadership skills for a successful future.