For 125 years, Southern Preparatory Academy, AL, has steadfastly stood as an institution dedicated to cultivating upcoming leaders. Situated in Camp Hill, Alabama, this military boarding school has remained committed to fostering an environment that promotes focused learning, shielded from the distractions prevalent in public education. The intentionally modest size of their Corps of Cadets, comprising around 130 young men, engenders a closely-knit community where students, united by shared challenges, traverse the path of growth together.
Southern Prep's renown stems from its exceptional academic prowess, venerable military customs, spirited athletic competition, and pioneering distinctive programs. Beyond merely functioning as a military high school, they embrace the roles of a boarding school, private institution, college preparatory academy, and an exclusive boys' school. Since its inception in 1898, its establishment has imparted the vital tenets of discipline and organizational framework, nurturing qualities such as concentration, self-reliance, and triumph.
Mission and Vision of Southern Preparatory Academy, Alabama
Image Credit: Southern Preparatory Academy
At Southern Preparatory Academy, a distinguished private military boarding institution, we offer a superior blend of academics, leadership cultivation, and athletic engagement. Our framework is rooted in unwavering moral and ethical values, fostering the growth of young men characterized by integrity, competence, and excellence, all primed for the challenges life presents.
Their mission and aspirations converge in cultivating our cadets' readiness for life's obligations, combining exceptional academic guidance with the rigor of a military regimen. Esteemed as one of the foremost military boarding schools for young men in the United States, Southern Preparatory Academy stands out as a beacon of excellence.
Military Programs in Southern Preparatory Academy, Alabama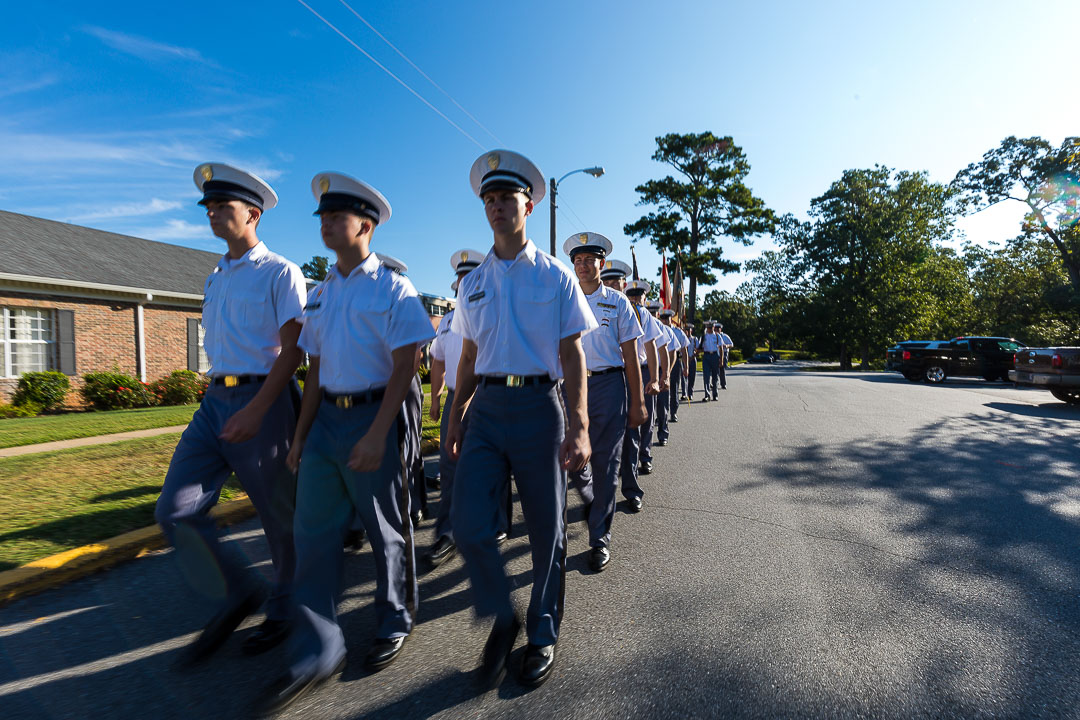 Drone Training
The drone training program at Southern Prep goes beyond casual drone operation, introducing junior students to the world of aviation and flight training.
The program offers introductory and advanced courses, each including supervised flight lessons, comprehensive classroom instruction, and exploration of the aviation industry. The introductory course involves hands-on experience with DJI's Mavic Pro quadcopter, while the advanced training uses fixed-wing RC aircraft.
Students not only learn safe drone operation but also how to integrate drones into flight environments, like designing runways and navigating traffic patterns.
Outside the classroom, drone students volunteer at The Southern Museum of Flight in Birmingham, Alabama.
For those interested in aviation, opportunities abound to join community events, attend airshows, tour airports, and connect with the aviation sector. Aviation students receive "Scout" callsigns, engaging in flights with their assigned names.
Prerequisites:
– Courses available from freshman to senior levels
– Requirement: Maintain 90% or higher in core classes
– Advanced drones course prerequisite: Complete Introduction to drone operation course
– Need ownership or willingness to acquire DJI's Mavic Pro system
Requirements:
– 9 weeks of initial classroom training
– 9 weeks of advanced drone skills like maneuvering, photography, videography, and editing
– Pass a comprehensive written test
– Complete oral and hands-on evaluations
– Accomplish videography/photography projects, including editing and presentation.
Flight Training Overview
The program features a comprehensive curriculum covering classroom ground instruction, personalized one-on-one flight training, FAA written test prep, simulation-based scenarios, and an introduction to aviation industry aspects.
Experienced industry veterans with over 40 years of combined military and civilian aviation experience lead the classes.
Tailored training is provided to match each student's learning pace and style, ensuring success in obtaining a private pilot's certificate and making them part of an esteemed high school aviator group.
Outside class, flight students volunteer at The Southern Museum of Flight in Birmingham, AL.
Flight students are invited to community events, airshows, and guided tours of airports, enhancing industry familiarity and network growth.
Current flight students adopt the "Ranger" callsign as their flying status symbol.
Prerequisites:
– Solo eligibility at 16, final private flight certificate evaluation at 17
– Maintain 90% or higher in core classes
– Possess a driver's license (encouraged)
– Pass Class 1 physical examination by an Aviation Medical Examiner
Requirements:
– Accumulate 45+ flight hours
– Complete one semester of ground courses
– Finish FAA written test prep
– Participate in simulator training
– Pass supervised FAA written test
– Fulfill oral and hands-on assessment by an FAA examiner
Scuba Training
Southern Preparatory Academy, in collaboration with training partners and the Instructional Staff of Southern Skin Divers Supply in Birmingham, provides SCUBA training, advanced dive instruction, organized recreational dive excursions, and the chance to join the Diving Rangers Dive Team.
Training Process
Southern Preparatory Academy will present four distinct chances for individuals to attain open-water SCUBA certification within the academic year. These opportunities are evenly distributed, with one session available every nine weeks throughout the school calendar. Each session is limited to a maximum of 12 cadets. The training regimen encompasses four days of specialized instruction, covering both classroom education and practical water skills. This training is conducted at the Southern Skin Divers Supply facilities.
The certification validation weekend involves a two-day schedule of dives set against the backdrop of Morrison Springs or Vortex Springs in the Florida panhandle. Additionally, cadets will experience either shore dives at St. Andrews Jetties, Florida, or a boat dive off the coast of Florida.
Upon obtaining open-water certification, divers can participate in various dive trips during the Fall and Spring seasons. These expeditions typically include drift diving and snorkeling with manatees in the Rainbow River and Crystal River, Florida, and partaking in inshore wreck diving excursions departing from Panama City or offshore wreck descends from Orange, Alabama.
Over the year, the Diving Rangers engage in activities such as search and rescue training, recovery training, Lake Martin cleanup initiatives, and various diving prospects throughout the academic term.
The culminating dives of the school year for the Diving Rangers occur in late April during Spring, transpiring off the shores of Orange Beach, Alabama, on a sunken Navy Tug.
Drone Demonstration
Introducing a pioneering initiative, we proudly announce our distinction as the inaugural high school program nationwide to unveil an exclusive drone demonstration team – a team driven entirely by human expertise, free from automation.
Countless hours are dedicated to refining our maneuvers, harmonizing music with narration, and crafting a distinctive sensory encounter. This amalgamation of visuals and sounds results in a matchless spectacle. Their pilots, alongside dedicated team members, embark on journeys to airshows, schools, and diverse events, captivating audiences with their tightly coordinated, close-formation flight prowess.
Distinguished by callsigns like "Scout 01" through "Scout 06," our pilots' identities are etched into the skies. Earning their esteemed roles is demanding, necessitating their triumphant navigation through a rigorous interview and evaluation process that unfolds in December.
In addition to pilot positions, they extend opportunities for student engagement in roles such as setup crew, safety officer, and sound technician this year.
With the 2023-24 application already brimming with engagements, they welcome prospective students who meet the following prerequisites to reach the Academy.
Prerequisite
– Consistently achieve a grade of 90% or higher in core classes.
– Successful completion of the Introduction to Drone Operation course is a requirement for joining the Drone Demonstration Team.
– Proficiency with DJI's Mavic Pro system is necessary, and ownership is mandatory.
– Qualified drone pilots aiming to audition for the team without completing the introductory course will undergo flight evaluations on a case-by-case basis, guided by the Aviation Studies Director.
Tuition Cost in Southern Preparatory Academy, Alabama
The tuition cost of Southern Preparatory Academy starts from $35,000.00. Southern Prep is dedicated to delivering outstanding education rooted in military structure and discipline. The Academy recognizes parents' initial educational concerns. Yet, be assured that the value extends beyond classrooms. The Academy imparts discipline, leadership, and resilience, equipping students for academic success and personal development.
Though the tuition cost of Southern Preparatory Academy is significant, it's essential to understand that this investment covers a comprehensive educational journey. This journey fosters intellectual growth, character development, and physical well-being. The Academy is dedicated to supporting families through various financial assistance options, ensuring this transformative experience is accessible to all.
For the 2023-2024 tuition details, kindly click this link. If the individual has inquiries or requires guidance, they are encouraged to contact a member of the Admissions Team at 256-790-9202 or 256-496-8864. The team will be more than happy to assist them.
International Students
Exposure to diverse individuals and cultures is pivotal in shaping a well-rounded individual in today's global landscape. Southern Preparatory Academy extends an inclusive atmosphere alongside an exceptional college preparatory education. Merging a military boarding structure with a college-preparatory approach, the Academy's impact goes beyond mere preparation – it embarks on life-altering transformations.
Southern Prep is located in Central Alabama and enjoys a rural yet conveniently accessible setting. The sprawling 320-acre campus, adorned with lush woodlands, provides a scenic backdrop while ensuring a secure environment for all students. The Academy takes pride in hosting students from four countries and fostering partnerships with international educational agencies.
At Southern Prep, the option of enrolling by semester is available. They invite you to connect with their Admissions officer to explore how Southern Prep can enrich your international educational journey.
Click here for the International Admission Checklist
What Southern Preparatory Academy Represent
Strength of Achievement
Southern Preparatory Academy emphasizes education as its foundation, seamlessly integrating its role as a school and military Academy. This unique blend brings distinct advantages to students, combining structured military principles with academic pursuits.
By infusing military practices of organization, self-discipline, and structure into their studies, students efficiently manage their study time, excelling in both quantity and quality of academic achievements.
Small class sizes and dedicated faculty create an ideal learning environment. Educators provide personalized attention, enabling students to embrace learning styles that suit their strengths.
Educators form strong connections with students, guiding them toward reaching their potential. Rigorous grade monitoring prevents any student from falling behind, resulting in improved GPAs and readiness for college.
Academics take precedence at Southern Preparatory Academy. The carefully crafted curriculum spans grades 6-12, preparing students for higher education or vocational training. With experienced faculty, the curriculum balances challenge and reward.
Dual Enrollment is facilitated through local community colleges: Central Alabama Community College and Southern Union State Community College.
Excellence is extended through an honors program, virtual reality courses, and Edgenuity's online classes.
With an average class size of twelve cadets and a 10:1 cadet-to-teacher ratio, 1.5-hour nightly study hall sessions ensure diligent assignments and exam preparation.
About 90% of graduates continue to colleges or universities.
Southern Preparatory Academy collaborates with the community for enhanced vocational training. Cadets explore paths like welding, carpentry, and K9 detection services, broadening their horizons beyond traditional academics.
Strength of Leadership
Southern Prep's military traditions foster leadership through structure, discipline, and hierarchy. The privilege and respect system instills accountability in cadets. What sets this apart is that students practice leadership daily.
The framework establishes cadet hierarchies driven by motivation. Advancement brings privileges and responsibilities, creating an environment where cadets lead, exemplify, and are incentivized.
Clear military standards in organization, self-care, and respect ensure equal opportunities. This offers young men a chance to prove themselves, driving self-motivation and confidence for future success.
Strength of Opportunities
Southern Prep's military traditions nurture leadership traits through structure, discipline, and hierarchy. The framework, featuring earned privileges and respect, encourages cadet accountability and understanding of consequences. Notably, students here don't just learn leadership theories; they actively practice them daily.
Cadet hierarchies are rooted in motivation within the military structure. Progression yields promotions, more privileges, and responsibilities. This empowers cadets to lead and incentivizes their peers.
Clear military standards regarding organization, self-care, and respect create a level playing field for cadet success. Boys find new ways to showcase skills, leading to noteworthy achievements. These accomplishments, based on individual merit, cultivate self-motivation and confidence, shaping a path for future success.
Strength of Brotherhood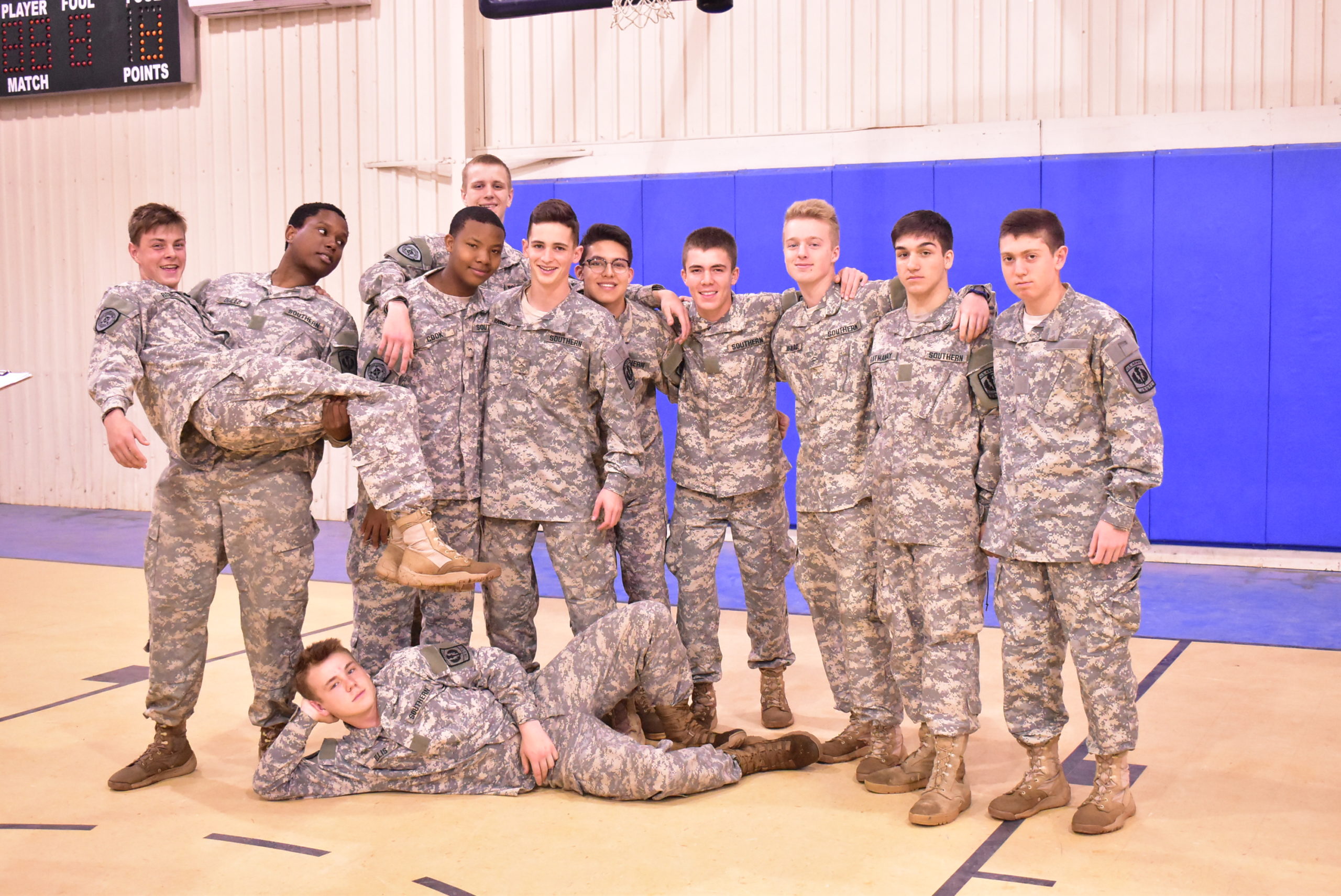 The cherished aspect of Southern Prep, as confirmed by current and former students, is the profound sense of brotherhood. Young men here thrive in an environment that fosters deep connections. Cadets unite around a common goal: becoming leaders and a cohesive team.
The brotherhood forms early as cadets tackle shared challenges and discover the power of teamwork. Through this journey, unwavering trust is built, resulting in lasting friendships that surpass expectations. These bonds rest on reliability and confidence, shaping relationships at school, home, and beyond.
The bonds extend beyond camaraderie to encompass a close-knit community of students, faculty, and staff. This community celebrates achievements, faces challenges, and shares respect. When your son joins, your family becomes part of this extended family. Involvement is valued throughout his journey, ensuring you remain integral to his experience.
Strength of Preparation
As a college preparatory school with an integrated military boarding structure, Southern Prep's mission goes beyond preparation – it catalyzes transformative change. Military boarding life cultivates resilience in boys, empowering them to face challenges directly.
Each day at Southern Prep shapes a boy into a more insightful individual. Amid demanding academics, he not only meets expectations but surpasses them. With guidance, he discovers his path, evolving beyond imagination.
College and life readiness require more than academics – it's about holistic preparation. Graduates leave with leadership skills, discipline, organization, and teamwork abilities. They're driven to achieve. This journey molds them into accomplished men, prepared for future success.
Southern Prep's experiences position graduates for triumph. They're equipped with intellect and life skills – leadership, self-mastery, teamwork – ready to make their mark. This transformative journey readies them for a successful future.
Founder of Southern Preparatory Military Academy
The origins of Southern Preparatory Academy trace back to a rich and eventful history. Established in 1898 by Dr. Lyman Ward, a visionary Universalist minister from New York, the Academy emerged to prepare young men and women for life's multifaceted challenges, whether in manual skills or the realms of literature and art. Dr. Ward embarked on a fundraising campaign of $5,000, rallying support from various churches and communities in eastern Alabama, a pivotal initiative that laid the foundation for the Academy.
Dr. Ward's educational philosophy was significantly influenced by the ideas of Booker T. Washington, a prominent figure who underscored the crucial role of education in shaping the minds of young individuals, especially those facing socio-economic adversity. After being inspired by a lecture by Booker T. Washington, Dr. Ward decided to relocate southward. His pursuit led him to the Tuskegee Institute, where he immersed himself in innovative methodologies and subsequently adapted and integrated into the Academy's approach. A distinctive facet of Dr. Ward's vision was incorporating labor contributions, imparting the principles of hard work and self-reliance to his students.
During the late 1890s, a unique friendship blossomed between Booker T. Washington and Dr. Ward. Together, they embarked on joint speaking engagements and fundraising ventures, aligning their efforts to promote their schools. Tuskegee Institute and Southern Preparatory Academy, previously known as Southern Industrial Institute, share a remarkable connection and are often considered sister institutions. Booker T. Washington's influence is palpable in the core values of Southern Prep, mainly its non-denominational religious focus, contributing significantly to its enduring success.
Over the years, Southern Preparatory Academy has demonstrated adaptability, evolving in tandem with changing times. Yet, it's essential to recognize that integrity, honesty, and loyalty have remained unwavering, a testament to the enduring legacy of influential figures like Booker T. Washington. Today, the Academy continues to build upon the legacy established by Dr. Lyman Ward. Cadets from diverse corners of the globe partake in an educational journey that equips them with leadership skills and knowledge, facilitating success throughout their lives.
Football
Football has consistently held the spotlight as the favored sport at Southern Prep, fostering a legacy of genuine enthusiasm. The Rangers command the field as an independent force, engaging in both 8-man and 11-man football confrontations against a spectrum of public and private adversaries, primarily hailing from the states of Alabama and Georgia. Presently, Southern Prep boasts the presence of both Varsity and Junior Varsity teams, a testament to our commitment to nurturing the growth of our student-athletes.
When our Rangers find victory, the cheers are accompanied by the resounding blast of a cannon. This traditional salute echoes for each touchdown scored and the inaugural kick-off, embodying our spirited celebrations.
Southern Prep Academy's pinnacle moment in football history it occurred in 1966 under the leadership of Coach J.D. Gooden, steering the team to an impressive 8-1 record. Another significant triumph unfolded in 2019 when Coach Roland Bell guided the Rangers to an 8-4 season, culminating in securing the NHSA 8-Man Division II National Championship.
Currently, the academy fields two distinct teams – the Varsity team for the Senior School level and the Junior Varsity team for the Junior School level. The Varsity squads consist of student-athletes spanning grades 9 to 12, while the Junior Varsity program is tailored for those in grades 6 to 8. Each team actively participates in a comprehensive interscholastic schedule.
Engaging in an intensely competitive series of 8 to 12 games, the Varsity teams commence their battles in mid-August, concluding their season in mid-November. Meanwhile, the Junior Varsity team undertakes a 10 to 12-game journey, embracing the heart of competition across the same timeframe.
Baseball
The commencement of basketball practice takes place from mid-to-late October and welcomes the participation of all students who show interest. Invariably, around 40 young men engage actively, assuming roles as players, managers, and scorekeepers across the Academy's dual teams.
Soccer
Southern Prep emerged as a pioneer among Alabama high schools by introducing an interscholastic soccer team, setting a precedent alongside a companion school. This bold initiative saw fruition in a state championship title in 2010 (AISA) with a remarkable 12-1-0 record. Notably, the accolades also included the distinction of Area Champions in 2009.
Baseball
Since the onset of spring in 2010, baseball has held its place as a Varsity sport within the Academy. In anticipation of the 2014 baseball season, the construction of a fresh on-campus baseball field was in the works. Southern Prep actively competes as a Class AAA constituent of the Alabama Independent School Association.
Cross Country
Within Southern Prep's framework, both Varsity and Junior Varsity cross-country teams flourish. The Academy's active involvement extends to the AISA league. The dedicated members of these teams engage in practice sessions on on-campus trails that span distances of 1 mile, 3k, and 5k.
Conclusion
Southern Preparatory Academy is distinguished by its private military boarding format, offering a seamless fusion of academics, leadership development, and athletic involvement. Central to its essence is unwavering moral and ethical values, nurturing the emergence of young men who embody integrity, competence, and excellence, poised to tackle life's multifaceted challenges.
The institution's mission converges seamlessly with its aspirations, converging into a comprehensive initiative that readies our cadets for the array of responsibilities life presents. This holistic approach intertwines exceptional academic guidance with the disciplined rigor emblematic of a military structure. Revered as a premier establishment among military boarding schools for young men in the United States, Southern Preparatory Academy exemplifies exceptionalism.
FAQ
What is the best military school in Alabama?
Southern Preparatory Academy (formerly Lyman Ward Military Academy) is one of Alabama's few male-only boarding schools. Renowned for its excellence, it consistently ranks among Alabama's top military schools, earning its reputation for various compelling reasons.
References
"Lyman Ward hoops cracks AISA top-10 – The Alexander City Outlook". The Alexander City Outlook. 2012-01-19. Retrieved 2018-07-10.
"Southern Preparatory Academy". Military School Guide. Archived from the original on October 29, 2020.