History
Marion Military Institute (MMI) is the oldest military junior college in the United States, with its roots dating back to 1842 when Howard College was established in Marion, Alabama. During the Civil War, the historic Chapel and Lovelace Hall, constructed in 1857, served as the Breckinridge Military Hospital, providing care to soldiers from Union and Confederate forces. Howard College remained in Marion until 1887 when the Alabama State Baptist Convention moved the institution to Birmingham, where it later evolved into Samford University. At the time of this relocation, Colonel James T. Murfee, who had assumed the presidency in 1871 after transitioning from the University of Alabama, chose to stay in Marion. Collaborating with a group of faculty and trustees, Murfee officially established the Marion Military Institue on the existing campus, emphasizing the cultivation of character, academic excellence, and military heritage through institutional policies.
Under the leadership of Hopson O. Murfee, MMI's second president, a student-led government that prioritized honor and ethics it was emerged as a notable feature. This progressive approach led to establishing a student government association and an honor system, pioneering concepts in the southern education landscape. H.O. Murfee's tenure propelled the institution to national acclaim, even drawing figures like William Howard Taft, who chaired the Board of Directors, and Woodrow Wilson, president of Princeton University, to speak at an MMI conference in 1905. In homage to Woodrow Wilson and Princeton University, Marion Military Institue adopted orange and black, along with the tiger as its mascot.
The origins of the Service Academy Program trace back to MMI, marked by the inception of the Army-Navy department in 1910. Responding to the demands of World War I, the Army ROTC program was introduced in 1916, and the Army ROTC Early Commissioning Program took shape in 1968 amid the Vietnam War.
Until World War II, the campus primarily consisted of two main structures—the Chapel and the Old South (Lovelace) Barracks—relics from the early Howard College era. The Marion Military Institue campus spans over 160 acres and encompasses 38 buildings.
Remaining a private institution encompassing both a high school and junior college, MMI was governed by an MMI Board of Trustees until 2006. At that point, the Alabama legislature decided to integrate the institute into the Alabama Community College System (ACCS). As part of this transition, the high school component was dissolved, and MMI exclusively continued its role as a military junior college. Today, MMI operates as a member college within ACCS, overseen by the ACCS Board of Trustees.
The original MMI Board of Trustees was retained by legislation to direct the MMI Foundation, responsible for fundraising and managing the endowment. This board also extends guidance to the MMI President and ACCS leadership. Marion Military Institue holds accreditation from the Commission on Colleges of the Southern Association of Colleges and Schools (SACS), permitting the awarding of Associate of Science and Associate of Arts Degrees. Additionally, Marion Military Institute maintains membership in the Association of Military Colleges and Schools of the United States and the National Junior College Athletic Association.
The mission of the Marion Military Institute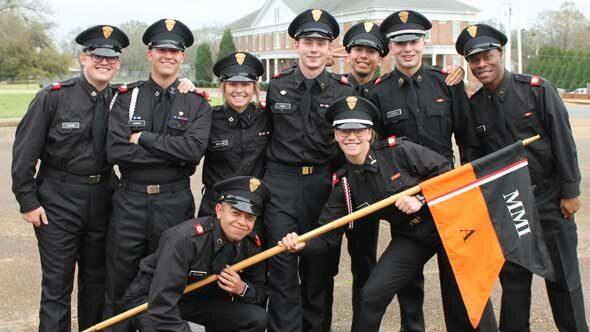 Marion Military Institute, a public higher education institution with a two-year curriculum, guides and shapes cadets into prospective leaders within an immersive experiential military setting. This environment seamlessly combines intellectual, leadership, character, and physical growth, equipping them for achievements in four-year universities, U.S. service academies, and diverse paths spanning military and civilian professions.
Vision
Marion Military Institute aims to attain national recognition as Alabama's foremost college for cultivating leadership. This recognition will be built upon a comprehensive approach to cadet enrichment, encompassing an immersive and purposeful experiential learning atmosphere, a substantial and demanding academic curriculum, and a complete system for fostering character and leadership education.
Campus Facilities
Spanning 126 acres, MMI's historic campus revolves around the iconic Chapel (built in 1857) and a central quadrangle. Within this expanse are five barracks, an academic complex, a dining hall, a parade field, and military training facilities. The campus also offers recreational havens such as an illuminated sports field and track, an obstacle course, baseball and softball fields, a nine-hole golf course, and three tennis courts. To enhance student life, the QM student center features a snack bar, zones for TV and gaming, pool and table tennis, a barber shop, and an adjacent bookstore/gift shop.
Adding to the campus's versatility, an all-purpose athletic center is a hub for various activities. This center boasts a spacious stage for special ceremonies, a 25-meter indoor swimming pool, a fully-equipped weight room with universal, nautilus, free weights, an indoor rifle range, and a collegiate-level basketball court.
Courses Offered at Marion Military Institute, AL
Humanities
– Challenge Cadets: Enhance thinking, reasoning, creativity, and communication for effective 21st-century leadership.
– Quality Instruction: Deliver arts, literature, philosophy, and world cultures education that is thought-provoking and experience-based.
– Explore Fundamental Nature: Investigate knowledge, reality, and existence globally and throughout history.
– Faculty Engagement: Recruit, retain, and advance faculty committed to fostering critical reasoning and global understanding.
– Well-Rounded Cadets: Cultivate awareness and appreciation of arts, human endeavors, and impactful human thought in today's society.
History and Social Science
– Stimulate Critical Thought: Employ inquiry-based methods to drive critical thinking in cadets, encouraging exploration of societies, human pursuits, and behavior.
– Discovery Process: Engage cadets by posing open-ended questions relating to significant developments in both U.S. and global history, fostering a discovery process.
– Develop Critical Thinking: Cultivate cadet critical thinking skills through scholarly investigation, utilization of evidence, and the formulation of independent arguments concerning the past, human thought, and behavior.
– Faculty Development: Attract, retain, and promote faculty who furnish cadets with essential historical context, guide them in employing pertinent primary and secondary sources, and cultivate critical thought via academic accomplishment.
– Produce Skillful Cadets: Shape cadets capable of sourcing, interpreting, contextualizing, analyzing, and amalgamating evidence, enabling them to draw reasoned oral and written conclusions on issues impacting the world.
Maths and Science
– Quality Instruction: Deliver engaged and high-quality teaching to service academy, general education, and non-science major cadets, ensuring program requirements are fulfilled.
– Experiential Learning: Provide courses that enable experiential learning, enhancing cadets' comprehension of their surroundings.
– Stimulating Learning: Create thought-provoking learning settings and well-equipped laboratories.
– Faculty Engagement: Attract and retain faculty dedicated to enhancing cadet education and promoting continuous improvement.
– Accessible Faculty: Ensure easy access to faculty, facilitating mastery of course content and guiding cadets toward fulfilling service academy or associate degree requisites.
– Critical Thinking and Quantitative Reasoning: Cultivate cadets with solid foundations in critical thinking and quantitative reasoning, enabling them to interpret, predict, and comprehend the physical world.
The Marion Military Institute Programs
Early Commissioning Program (ECP)
The Early Commissioning Program (ECP) presents a unique opportunity for cadets to attain an Army officer commission two years ahead of their four-year college or university counterparts. Eligibility for this accelerated program requires meeting specific criteria and committing to a foundational term of service in the U.S. Army, either in active duty or reserve forces roles.
To qualify for the ECP, cadets can fulfill one of the following: completing the Army ROTC Basic Camp before enrollment; having previous military service with completion of basic training or equivalent; or having at least three years of JROTC with approval from the Professor of Military Science. Additionally, advanced ROTC cadets must pass a standard army physical examination and possess a clean record free from arrests or convictions.
Admission to the Early Commissioning Program entails meeting specific academic benchmarks:
To enter the program, applicants should attain a minimum composite score of 17 on the ACT (or equivalent on the SAT) and maintain a high school grade point average of at least 2.00.
To be considered for an ECP scholarship, applicants must achieve a minimum composite score of 19 on the ACT (or equivalent on the SAT) and maintain a minimum high school grade point average of 2.5.
Upon successfully completing the Advanced ROTC courses and the Early Commissioning Program, cadets will earn the rank of second lieutenant in the Army. After acquiring a baccalaureate degree, these second lieutenants may be eligible to compete for continuous active duty or choose to engage in functional duty training while remaining associated with the National Guard or Army Reserve.
The General Bruce K. Holloway Service Academy Program
Every year, Marion Military Institute welcomes young men and women aspiring to enter the service academies. The General Bruce K. Holloway Service Academy Program, established in 1910 and the oldest program in the United States, offers a comprehensive foundation in academics, military training, leadership, and physical development. Cadets on the path to a service academy appointment engage in college-level coursework tailored to the requirements of the academies, with a specific emphasis on physical conditioning.
Cadets must meet the ROTC standards as a baseline and the academic criteria detailed in the following section. It's highly favorable for candidates to have participated in high school sports and other extracurricular activities, demonstrating their willingness and capability to engage in the comprehensive MMI program. Specific exemptions from these criteria might apply to candidates sponsored by a service academy.
For those seeking an appointment, the College has instituted additional admission prerequisites. Applicants must have an SAT score of 1160 or higher (or an ACT composite score of 24 or more), with individual math and verbal scores of 540 or more (or ACT math and English scores of 24 or higher). Additionally, a minimum high school grade point average of 3.0 is expected. Only under exceptional circumstances, either determined by the sponsoring Academy or through eligibility assessment by the Director of the Service Academy Program, will exceptions be made to these criteria.
Air Force ROTC (AFROTC)
Marion Military Institue's cadets can work toward an Air Force officer commission via the Air Force ROTC program in collaboration with the University of Alabama's Air Force ROTC program. Cadets spend two years at MMI before transitioning to a senior college or university to finalize the commissioning program for the U.S. Air Force. Eligibility for participation in this program requires cadets to attain an ACT composite score of 22 or higher or its SAT equivalent.
Marine Corps Platoon Leaders Course (Plc)
The Platoon Leaders Course (PLC) is a collaborative initiative with the University of Alabama's USMC Officer Selection Officer, offering college freshmen, sophomores, and juniors the chance to secure a Marine officer's commission. Following summer training, successful candidates become eligible for a monthly stipend. Upon achieving a bachelor's degree from a four-year university, these candidates are commissioned as Second Lieutenants in the United States Marine Corps.
Navy Rotc Prep
MMI's NROTC Prep Program offers an avenue for highly motivated and outstanding candidates to achieve a Navy commission (NROTC).
In their first year at MMI, cadets will be eligible to compete for a subsequent 4-year NROTC scholarship, applicable to numerous of the 19 affiliated universities. As part of a pilot program, five universities – Old Dominion University, Illinois Institute of Technology, Norwich University, Tuskegee University, and the University of San Diego – have consolidated their alternate NROTC Preparatory Program scholarships into an offering for eligible MMI NROTC Self-Prep Cadets. By the program's conclusion, a commitment has been made by the universities and the Navy to extend at least five NROTC scholarship offers to eligible MMI NROTC Self-Prep cadets.
Participating cadets in the MMI NROTC Prep Program engage in a rigorous year-long academic and military curriculum that enhances their competitiveness for the scholarship while furnishing them with a robust educational groundwork for success at their subsequent sponsoring university.
Note: The NROTC Prep Program follows a 5-year college track, encompassing the first year at MMI and an additional four years on a National Scholarship as a full Midshipman at one of the affiliated universities.
Leadership Education Program (LEP)
The Leadership Education Program at MMI caters to students seeking enrollment without a mandatory military service commitment. Cadets in this program benefit from the valuable combination of an army setting and an associate's degree education. They immerse themselves in a disciplined lifestyle while pursuing their associate's degree, simultaneously acquiring hands-on experience in leadership and organizational management. LEP cadets undertake four semesters of introductory military science coursework as part of their involvement.
To qualify for the Leadership Education Program admission, applicants should hold a minimum composite score of 16 on the ACT (or equivalent on the SAT) and maintain a cumulative high school grade point average of at least 2.0.
MMI Academic Policies
Image Credit: Marion Military Institute
Classification of Students in the Marion Military Institute
A cadet registered for 12 or more semester credit hours is designated as a full-time student. For a satisfactory advancement towards the associate's degree, cadets should undertake a load of 15 to 16 credit hours per semester. Completing the associate's degree mandates the accumulation of 64 college-level credits, excluding developmental courses. Cadets aspiring to enroll in over 19 credit hours per semester must secure consent from their academic advisor and the Chief Instructional Officer before registration.
Registration for Courses and Changes in the Cadet Schedule
Currently, registered cadets are given priority for registration. Their registration typically occurs before the conclusion of the preceding semester.
Cadets can modify their class schedule by adding or dropping classes within the initial five days of each semester, designated as the "drop/add" period. Any classes dropped during this time do not appear on the cadet's transcript.
Once the first week of classes is completed and up to the stipulated date on the academic calendar, cadets can withdraw from specific courses. However, a cadet needs to uphold a full class load throughout enrollment, consisting of at least twelve credit hours. Audited systems and those from which students withdraw are subject to identical fees as standard courses.
Cadets can withdraw from the entire semester up to the final day of classes, as specified in the academic calendar. In such cases, a "W" grade will be assigned for the respective individual course or all courses.
Repeating a Course
Course forgiveness is applied when a student retakes a course, with the last grade received (excluding "W" grades) replacing the prior status in calculating the cumulative grade point average. The grade point average achieved during the initial attempt of the course remains unaffected. The official transcript will document each instance of the class, along with the corresponding grade.
When a student completes a course multiple times, all grades for the course (excluding the initial phase) will contribute to the computation of the cumulative grade point average. The official transcripts will indicate each instance of the class in which the student was enrolled.
A student can retake a course on multiple occasions, yet that particular course will only be counted once in the total credit hours required for graduation.
Note: Students are advised to review Financial Aid regulations concerning the repetition of courses.
Class Attendance at The Marion Military Institute, Alabama
Cadets are held accountable for attending all scheduled class sessions. Attendance forms a commitment involving set engagements and specific attendance expectations. In cases where a cadet cannot participate in due to school-sanctioned activities, the cadet should arrange with the instructor beforehand to manage the completion of missed coursework.
Should a cadet accumulate four or more unexcused absences in a course that convenes three times per week, three or more unexcused absences in a lecture held twice a week, or two or more unexcused absences in a weekly class, they may face administrative withdrawal from the system and receive a grade of "F."
Cadets dismissed from a class due to amassed unexcused absences have the right to appeal the dismissal to an Academic Board. This board, consisting of faculty members and a representative from the Office of the Commandant of Cadets, reviews appeals. Written appeals must be submitted to the Chief Instructional Officer (CIO) within one week following the fourth unexcused absence. The decision made by the Academic Board is final.
It's important to note that nonattendance does not indicate withdrawal from either the class or the college. Marion Military Institute has established protocols to adhere to if a student needs to leave the college during a semester. Failure to follow these procedures while discontinuing attendance will lead to an "F" grade assigned for each of the cadet's enrolled courses.
President's and Dean's Lists
Upon the conclusion of each semester, cadets who are registered for a minimum of twelve credit hours in college-level courses and achieve a perfect 4.0 grade point average earn recognition on the President's List. Furthermore, cadets enrolled in at least twelve credit hours of college-level coursework, securing a grade point average ranging from 3.5 to 3.99, are acknowledged on the Dean's List.
Graduation and Degree Requirements
Marion Military Institute confers the Associate in Arts (AA) and the Associate in Science (AS) degrees. To qualify for degree conferral from Marion Military Institute, cadets must adhere to the following stipulations:
Complete a minimum of 64-semester credits at the college level, as prescribed for the associate degree, excluding any developmental credits.
Attain a cumulative grade point average of no less than 2.0.
Submit and complete an Application for Graduation before the conclusion of the fall semester preceding the anticipated final semester.
Fulfill all MMI commitments, whether financial or otherwise, and return all college materials and library items.
Accomplish a minimum of 25 percent of the semester credit hours mandated for the degree at Marion Military Institute.
Additional Graduation Guidelines are as follows:
Cadets can graduate by meeting the prerequisites outlined in the catalog corresponding to their entry year, provided that graduation occurs within four years of initial enrollment. Beyond these four years, cadets might be required to adhere to the conditions specified in the current catalog.
Cadets must complete an assessment battery as necessitated to gauge general education attainment across various domains designed to evaluate academic programs. No specific minimum score or achievement level is required for degree attainment purposes.
Graduation Honors
Cadets at the college level who attain associate degrees with cumulative grade point averages ranging from 3.9 to 4.0 will be honored with the distinction of Summa Cum Laude. For those achieving final cumulative grade point averages between 3.70 and 3.89, the accolade of Magna Cum Laude will be conferred. Graduates completing final cumulative grade point averages from 3.5 to 3.69 will be presented with the distinction of Cum Laude.
Distance Education Policy
Marion Military Institute (MMI) acknowledges the significance of distance education as a method of delivering instruction. Distance education denotes a formal educational process where the primary interaction between students and instructors and among students occurs when they are not physically located in the same place. It leverages technology and teaching approaches to provide instruction outside the traditional classroom, offering increased flexibility and scheduling options.
All existing policies that apply to on-campus or "traditional classroom" education are equally relevant to distance education courses. This encompasses matters such as admission, prerequisites, and grade requirements.
The ensuing policy statements pertain to distance education courses at MMI:
Distance education courses must adhere to the same caliber and rigor as those conducted on campus. This commitment is affirmed through these practices:
– Instructors will submit course syllabi to the Department Chair for review and endorsement by the Chief Academic Officer and Chief Instructional Officer before implementation.
– Instructors will submit and communicate scheduled student learning outcomes to Department Chairs for assessment.
– The Assessment Committee will scrutinize annual institutional effectiveness reports, incorporating course evaluations and comparing distance education and conventional courses.
Instructors must demonstrate the oversight of student work to ensure integrity through the following processes:
– Instructors, or approved proctors, will (1) administer at least one significant on-campus examination or assignment per course OR (2) mandate that at least one substantial examination or assignment per course be completed by students through the online monitoring system, Respondus Monitor. The selection between on-campus completion and Respondus Monitor use rests with each student.
– Students participating in video-monitored or proctored exams must provide formal identification.
– Each student must employ a distinct username and password for accessing the course management system, Blackboard, and other online instructional interfaces.
Distance education instructors are expected to maintain ongoing communication with and among students by:
– Integrating a discussion board or analogous shared communication tool in the course, facilitating regular interaction between students and the instructor.
– Sending weekly emails to students, motivating course advancement, and disseminating announcements related to coursework.
Suitable library and learning resources are readily accessible for distance education students via access points within the course management system (Blackboard) and the Baer Memorial Library web page.
Students lacking computer access can lease a laptop through the MMI Laptop Loaner Program or use campus computer labs for distance education coursework.
All student services must be easily accessible and pertinent to distance education students. Accessibility is ensured within the course management system and through dedicated Academic and Cadet Life web pages.
Faculty authorized to teach distance education must complete an orientation session on distance education instruction via the Alabama Community College System Quality Matters program before instructing a distance education course.
Distance education faculty members are obligated to deliver accurate and up-to-date information. Faculty should refrain from incorporating content in a course that they know constitutes libel, invasion of privacy, copyright infringement, or other violations of the legal rights of others.
MMI Admission Information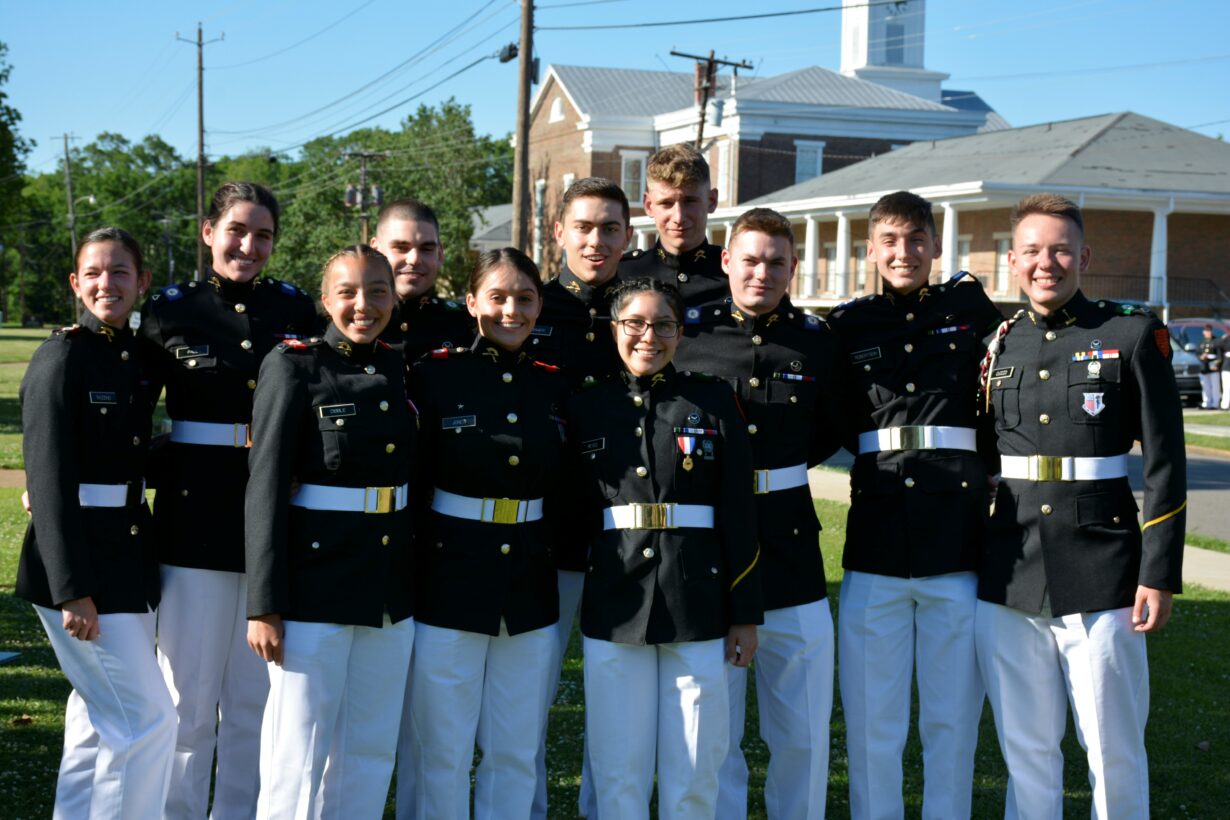 Image Credit: Marion Military Institute
General Admissions Information and Procedures
Prospective candidates and their families are encouraged to visit the campus and explore its facilities. During this visit, the candidate will have the opportunity to meet with an admissions counselor. Appointments can be scheduled by contacting the MMI Admissions Office at 1-800-MMI-1842.
All individuals aspiring to enroll in the collegiate programs at Marion Military Institute must adhere to the subsequent procedures:
Complete and submit an Application for Admission.
Furnish one primary form of documentation. Submission can occur in person or electronically. Acceptable primary documents include:
– An unexpired Alabama Driver's License or instruction permit.
– An unexpired Alabama identification card.
– An unexpired U.S. Passport.
– An unexpired U.S. Permanent Resident Card.
– A Resident Alien Card – Pre 1977.
– An unexpired Driver's License or instruction permit from another state or possession that verifies lawful presence, issued in 2000 or later.
– A U.S. Alien Registration Receipt Card (Form I-151) before 1978.
– A BIA or tribal identification card with a photo.
– I-797 Form with an expiration date.
– A voter identification card from a state that verifies lawful presence.
Submit official academic transcripts and copies of ACT and SAT scores. Incoming freshmen are expected to have fulfilled the following high school prerequisites: 4 credits of English, four credits of mathematics including algebra I, II, and geometry, four credits of science including biology and physical science, and four credits of social studies.
Provide a copy of the applicant's social security card.
Submit a copy of the applicant's birth certificate or proof of U.S. citizenship.
Furnish proof of registration with Selective Service (males aged 18 through 26).
Submit a $200 room deposit.
Complete the Magnus online health portal, meeting the health vaccination requirements.
Satisfy medical criteria as outlined below:
In addition to maintaining reasonable health standards, applicants must demonstrate good conduct, a readiness to take responsibility for their actions, and respect for others. Academic and physical competency standards must also be met for admission, which may exclude individuals with specific disabilities. Moreover, applicants should be able to adapt to and excel within a closely monitored, disciplined, and occasionally demanding environment.
All cadets must participate in certain physical activities integral to the traditions of a military school and the cultivation of individual leadership skills and camaraderie as part of the Corps of Cadets. Physical standards that are considered disqualifying for admission include:
Active epilepsy
Diabetes requiring special diet and insulin therapy
Blindness
Deafness
Chronic renal disease
Chronic cardiac disease
Severe symptomatic asthma
Severe neuromuscular or orthopedic disease or any substantial physical condition that, according to medical staff opinion, would impede the cadet's performance and physical activity aligned with Marion Military's requirements
Inability to fully engage in mandatory physical activities
Behavioral/health standards that are considered disqualifying for admission include:
Any felony criminal conviction
Any conviction where the cadet remains on probation or under court jurisdiction, including unresolved charges due to pending court dates or required programs
Permanent dismissal from any school
Attempted suicide
Manic-depressive disorder, emotional disturbance, bipolar disorder, regular psychological counseling, or severe psychological disorders or conditions that would hinder the cadet's practical function at Marion Military
Admission To An Associate Degree Program For First-Time College Students
Applicants not previously attended an accredited postsecondary institution will be categorized as first-time college students. For unconditional admission and classification as "degree-eligible," applicants need to submit a completed application for admission along with the following:
An official transcript demonstrating high school graduation or an official GED certificate.
Official ACT or SAT scores.
The College has established distinct admission criteria for specific programs:
Early Commissioning Program (ECP):
– Minimum of a 17 composite on the ACT (equivalent on the SAT).
– Minimum high school grade point average of 2.00.
– Admission to the ECP is determined by Army ROTC, following standards set forth by the United States Army Cadet Command Regulations.
Leadership Education Program (LEP):
– Minimum of a 16 composite on the ACT (equivalent on the SAT).
– Strong high school academic record in core courses.
Service Academy Program:
– SAT score of 1160 or higher (ACT composite of 24 or more).
– Math and verbal scores of 580 or more (ACT math and English of 24 or more).
– High school grade point average of at least 3.0.
– The sponsoring Academy or the Director of the Service Academy Program may make exceptions to these criteria.
Air Force ROTC Program:
– Minimum of a 24 composite on the ACT (equivalent on the SAT).
– Minimum high school GPA of 2.5.
Marine Corps Platoon Leaders Course:
– Minimum of a 22 composite on the ACT (equivalent on the SAT).
– Minimum high school GPA of 2.0.
Conditional admission of a first-time student may be granted if the college has not received proof that the student meets one of the admission requirements outlined in the General Admissions Procedures. Failing to provide the necessary documentation by the end of the first semester will hinder the student from future registration and the release of official transcripts.
Admission To An Associate Degree Program As A Transfer Student
An applicant previously enrolled at another postsecondary institution with regional accreditation will be recognized as a transfer student. Regional accreditation refers to accreditation granted by one of the six regional accrediting bodies acknowledged by the U.S. Department of Education.
For unconditional admission and classification as degree-eligible, transfer students must complete an application for admission and provide official transcripts from all previously attended postsecondary institutions, along with any other documents stipulated for first-time students. Conditional access may be granted to transfer students who have not submitted official transcripts from all prior institutions attended and any other required documents as specified by the institution. However, a transfer student will not be permitted to enroll for a subsequent semester unless all mandatory admissions records have been received by the institution before registration for the said semester.
MMI Degree Program Information
Image Credit: Marion Military Institute
Program of Study
Marion Military Institute provides an associate degree program tailored to cater to the requirements of students aiming to transfer to four-year institutions pursuing a bachelor's degree.
Planning the Educational Program
The cadet is responsible for choosing the sequence of academic courses, registering for them, and successfully fulfilling the program requisites that lead to graduation. While the academic advisors at Marion Military Institute are ready to aid students in degree planning and course selection, the ultimate task of planning and completing the educational program lies with the cadet. To prepare for academic advising, students with a transparent transfer destination should acquire the program requirements of their intended institution to facilitate the planning of their courses at Marion Military Institute.
Academic Advisement
Each student is assigned a faculty advisor upon enrollment at Marion Military Institute. The advisory process at MMI is an ongoing and interactive collaboration between the advisor and the student, facilitating the formulation and achievement of the student's educational aspirations.
Students are encouraged to consult the online registration instructions for initial course selection and scheduling. After their arrival, students should engage in regular discussions with their designated advisors. These discussions should transpire before each semester's preregistration period and before any alterations to the academic class schedule. Possible conversation topics encompass course selection, dropping courses, and comprehending degree prerequisites.
The student's responsible for adhering to established policies, procedures, course prerequisites, and counsel or guidance provided by academic advisors. Any complications arising from the student's failure to do so fall under the student's accountability. The college does not consider a lack of student awareness as a valid basis for waiving requirements or exceptions to policies and practices.
Prerequisites
Each course description includes its respective prerequisites. In exceptional cases, MMI's prerequisites may diverge from those indicated in the Alabama Community College System Course Directory. Such variations arise because of the distinctive educational opportunities Marion Military Institute presents. For further clarification, inquiries can be directed to the Chief Instructional Officer.
Stars Transfer Guide
In 1994, the Alabama Legislature established the State of Alabama Articulation and General Studies Committee and the Statewide Articulation Reporting System (STARS) through legislative action. The STARS System is designed to enable Alabama's public two-year college students to access a Transfer Guide/Agreement tailored to their chosen major. When correctly utilized, this guide/agreement steers students through their initial two years of coursework and safeguards against credit loss when transferring to an appropriate public four-year university within Alabama.
Students intending to transfer to a four-year college or university within the State of Alabama should follow these steps:
Obtain a printout of the guide for personal use and verification.
Engage in a discussion with an advisor regarding the direction and its requirements.
Secure an updated guide if there is a change in the selected major.
Thoroughly review the entire manual and agreement.
Adhere to the instructions specified in the manual and agreement.
Research the prospective transfer institution (admission criteria can differ among institutions).
Conclusion
By choosing MMI as the starting point for your higher education journey, you've opened the door to a unique opportunity for achievement. MMI offers a superior college education, seamlessly integrated into an immersive military environment and centered on cultivating leadership qualities. This distinctive approach is typically only found in institutions like the U.S. Service Academies. It provides a comprehensive education that nurtures your intellectual growth and your leadership abilities, character development, social skills, and physical well-being.
Upon completing your studies at MMI, you'll emerge with an enriched education and a heightened personal growth that sets you apart. Your leadership skills will be advanced, and your character will become more mature and responsible, giving you a significant edge over peers who haven't experienced such an environment. This advantage will not only contribute to your success during your transfer to a four-year institution but also in your future endeavors. MMI's exceptional education paves the way for an extraordinary life journey.
References
Marion Military Institute. "Army Early Commissioning Program (ECP)". Marion Military Institute. Archived from the original
Marion Military Institute. "Service Academy Program (SAP)". Marion Military Institute.
Marion Military Institute. "U.S. Marine Corps PLC Program". Marion Military Institute