In the heart of Vallejo, where the gentle waves of the San Francisco Bay whisper tales of maritime legends, stands a beacon of nautical excellence – the California Maritime Academy, also known as Cal Maritime. It's not just a school. It's a military school in California where students learn about the sea and become leaders, innovators, and caretakers of the ocean.
As we start our journey at Cal Maritime Academy, we'll explore its history, modern facilities, and the success stories of its graduates. This education goes beyond books and classrooms, giving us practical experience and endless opportunities. Welcome aboard; your maritime adventure begins here.
Overview of California Maritime Academy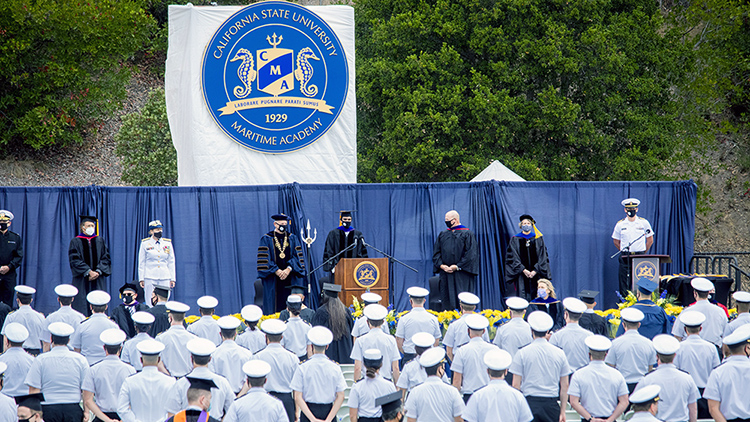 Cal Maritime's story is a tapestry woven into the fabric of the West Coast's maritime history. Established in 1929, its roots mirror the growth of the Pacific naval industry. It has been on a relentless mission to mold individuals for maritime careers, instilling core values of discipline, leadership, and unwavering service. Cal Maritime Academy is one of the top military schools in California.
Within its hallowed halls, Cal Maritime Academy offers various academic programs, each a compass guiding students toward their maritime dreams. Majors span from marine transportation to marine engineering technology, ensuring that aspiring mariners, engineers, and naval leaders find their course. Yet, what truly distinguishes Cal Maritime is its commitment to hands-on learning. The Training Ship Golden Bear, an awe-inspiring floating classroom, immerses students in real-life maritime scenarios. Here, they steer ships, manage cargo, and navigate the intricacies of naval operations, forging skills and experiences that define their journey.
Campus and Facilities in California Maritime Academy
The Cal Maritime campus is more than just an educational institution; it's a maritime experience that etches itself into the memory of every student. Situated on the tranquil waterfront, it commands breathtaking views that stretch to the limitless horizon. The location is not just picturesque; it's strategic. The campus's proximity to the San Francisco Bay and the Pacific Ocean ensures that students are never far from the waters they'll come to master.
The facilities at Cal Maritime Academy are a testament to its commitment to maritime excellence. Advanced simulators replicate the challenges of navigating authentic ships in diverse naval conditions. These simulators aren't just tools; they are gateways to mastery. Classrooms come alive with the hum of innovation, where students collaborate and innovate under the guidance of esteemed faculty. And then there's the jewel in Cal Maritime's crown – the Training Ship Golden Bear. This massive vessel, a maritime epicenter, isn't just a teaching tool; it's an adventure waiting to unfold. Here, students gain hands-on experience in ship operations, from navigation to engine maintenance, turning theory into practiced mastery. The facilities at Cal Maritime Academy empower students to explore, learn, and transform their maritime aspirations into reality.
Notable Alumni and Success Stories
Cal Maritime's impact reverberates far beyond the confines of its campus. It has a history of producing maritime leaders and visionaries who have left an indelible mark on the industry. One such luminary is Captain Kimberly Nguyen, who graduated from Cal Maritime with a degree in Marine Transportation. Captain Nguyen's journey from being a student at Cal Maritime Academy to becoming the youngest female harbor pilot at the Port of Los Angeles is an inspirational tale of determination, leadership, and breaking barriers in the maritime world. Her story is a shining example of the caliber of individuals Cal Maritime nurtures.
Courses Offered in California Maritime Academy
Cal Maritime Academy offers a wide range of courses, including but not limited to:
Marine Transportation
Marine Engineering Technology
Facilities Engineering Technology
Global Studies and Maritime Affairs
Mechanical Engineering
Business Administration
Oceanography
You can visit the official California Maritime Academy website for a comprehensive list of courses and program details.
Admission and Application Process at California Maritime Academy
Admission to Cal Maritime is an attainable dream for those who dare to embark on this maritime odyssey. The path is navigable, but it demands preparation and commitment. Prospective students should ensure their academic qualifications align with Cal Maritime's prerequisites. Additionally, it's vital to heed application deadlines, which typically fall during the early months of the year.
The application process is robust but transparent, designed to evaluate candidates comprehensively. It includes submitting transcripts, standardized test scores, and letters of recommendation. Cal Maritime, however, doesn't stop at evaluating mere numbers and documents; it seeks individuals who embody qualities that make a maritime leader – leadership, teamwork, and a passion for the sea. When reflected in an applicant's essays and interviews, these traits can tilt the admissions scales in their favor.
For more information on the admission process, requirements, and deadlines, please visit the official California Maritime Academy admissions page: Cal Maritime Admissions.
Student Life at Cal Maritime Academy
Life at Cal Maritime is more than an education; it's an immersion in maritime culture. It's the thrill of standing on the deck of the Training Ship Golden Bear, feeling the ocean breeze against your face, and knowing that you're not just learning but living maritime. It's about forging lifelong friendships as you navigate challenges together.
The campus buzzes with activities. From maritime-focused clubs to community service projects, there's no shortage of ways to engage. And then there are the traditions, like the "Crossing the Line" ceremony, where maritime neophytes become seasoned mariners in a time-honored rite of passage. These traditions, shared experiences, and bonds formed on this nautical journey create a community.
Career Opportunities and Industry Connections
Cal Maritime's reputation as a maritime education institution extends far and wide. Graduates are not only well-prepared but also sought after by the industry. Naval companies and organizations recognize the value of a Cal Maritime education, leading to exceptional job placement rates and career opportunities.
The institution's Career Services department is a guiding star, providing students with the tools and resources to secure internships and job placements. These opportunities are often gateways to a fulfilling maritime career, where graduates find themselves at the helm of ships, managing ports, and shaping the naval world's future.
Conclusion
In closing, our voyage through Cal Maritime unveils an institution and a maritime adventure. It's a place where dreams set sail, aspirations are forged into careers, and naval industry leaders are born. Whether you aspire to navigate the seas or engineer the vessels that cross them, California Maritime Academy offers an unparalleled journey to your maritime ambitions. So, as you contemplate your future in the marine world, remember that at Cal Maritime, you don't just chart courses; you chart success.
For more details and to explore everything that California Maritime Academy has to offer, visit their official website: Cal Maritime Official Website.