History and Founding of the United States Naval Academy
Image source: CNN
In 1845, the United States Naval Academy was established, making it one of the oldest service academies in the country. It was founded in Annapolis, Maryland, to provide a comprehensive education to future United States Navy and Marine Corps officers. The academy's inception was influenced by the need to improve training and professionalism within the Navy, as previous education methods for naval officers were seen as inadequate.
The idea for a dedicated naval academy can be traced back to George Bancroft, who served as the Secretary of the Navy under President James K. Polk. Bancroft proposed the creation of a school that would instill both academic knowledge and practical training in seamanship, preparing midshipmen for their future roles as naval officers. Under Bancroft's leadership and advocacy, the Naval Academy was established, with its first class consisting of just 50 midshipmen. Throughout its history, the academy has evolved and grown, adapting to the changing needs of the Navy and the nation it serves.
Location and Campus of the Naval Academy
The United States Naval Academy is in Annapolis, Maryland, not Virginia. The academy's campus stretches for 338 acres and is situated on the banks of the Severn River, providing a picturesque setting for the future Navy and Marine Corps officers who call it home. The campus is divided into various sections, with some notable features being Bancroft Hall, the largest single dormitory in the world, and the impressive Naval Academy Chapel. These iconic buildings and meticulously maintained grounds create a distinct atmosphere reflecting the academy's rich history and commitment to excellence.
The Naval Academy's location in Annapolis is aesthetically pleasing and strategically beneficial. Being positioned near the Chesapeake Bay allows for easy access to the water, facilitating the academy's mission to train midshipmen in seamanship and naval operations. Additionally, the proximity to Washington, D.C., offers unique opportunities for midshipmen to engage with policymakers and gain valuable insights into the nation's defense strategies. In terms of amenities, midshipmen can explore the vibrant downtown area of Annapolis, where they can find a range of dining options, shops, and recreational activities to enjoy during their downtime.
How Much is US Naval Academy in Annapolis Tuition?
The United States Naval Academy is 100% free for all admitted cadets of the institution.
How to Join the US Naval Academy
Admission Process and Requirements for Prospective Students
The United States Naval Academy offers a prestigious and rigorous education program for individuals interested in pursuing a career in the military. Admission to the Naval Academy is highly competitive, with only a select number of applicants being accepted yearly. Prospective students must meet certain requirements and undergo a comprehensive application process to be considered for admission.
To be eligible for admission, candidates must be United States citizens between the ages of 17 and 23.
They must also possess a high school diploma or equivalent, with a strong emphasis on mathematics and science coursework.
In addition to academic qualifications, prospective students must demonstrate strong leadership potential, physical fitness, and moral character.
The application process includes submitting an online application, standardized test scores (such as the SAT or ACT), high school transcripts, and letters of recommendation.
Prospective students must also pass a medical examination and a fitness assessment, which includes a physical readiness test and a Candidate Fitness Assessment (CFA).
The selection committee carefully reviews each application and considers various factors in making decisions, such as academic achievements, extracurricular activities, leadership experiences, and personal motivation. Learn more here.
Benefits of Joining the US Naval Academy in Annapolis
Furthermore, each midshipman at Massanutten Military Academy is entitled to a comprehensive set of benefits, ensuring a well-rounded experience:
– Monthly Allowance: Midshipmen receive a monthly allowance of $1,087.80. This allowance covers various essential services, including laundry, barber services, cobbler assistance, activity fees, yearbook expenses, and other related services.
– Cash Stipend: Midshipmen also receive $100 monthly cash besides the monthly allowance. This amount increases incrementally as they progress through their academic journey.
– Guaranteed Employment: Midshipmen are guaranteed employment opportunities after graduation. This assurance provides a strong foundation for their post-graduation career path.
These benefits are thoughtfully integrated into the academy experience, enriching the education and opportunities available to each midshipman. In return for these valuable benefits, midshipmen commit to five years of active duty service upon graduation, cementing their commitment to personal growth, leadership, and service to their country.
Academic Programs and Majors Offered at the Naval Academy
The United States Naval Academy offers its students various academic programs and majors. The curriculum is designed to provide a comprehensive education that prepares midshipmen for the rigors of a Navy or Marine Corps career. Some of the majors available at the academy include Aerospace Engineering, Chemistry, Economics, Political Science, and Naval Architecture.
The academic programs at the Naval Academy are known for their emphasis on STEM (Science, Technology, Engineering, and Mathematics) fields, which reflect the critical skills needed in today's rapidly advancing technological world. However, the academy also offers a strong liberal arts education, recognizing the importance of well-rounded leaders in military service. The rigorous coursework and practical training ensure that midshipmen graduate with the knowledge and skills necessary to excel in the naval profession.
Life as a Midshipman: Training and Discipline at the Academy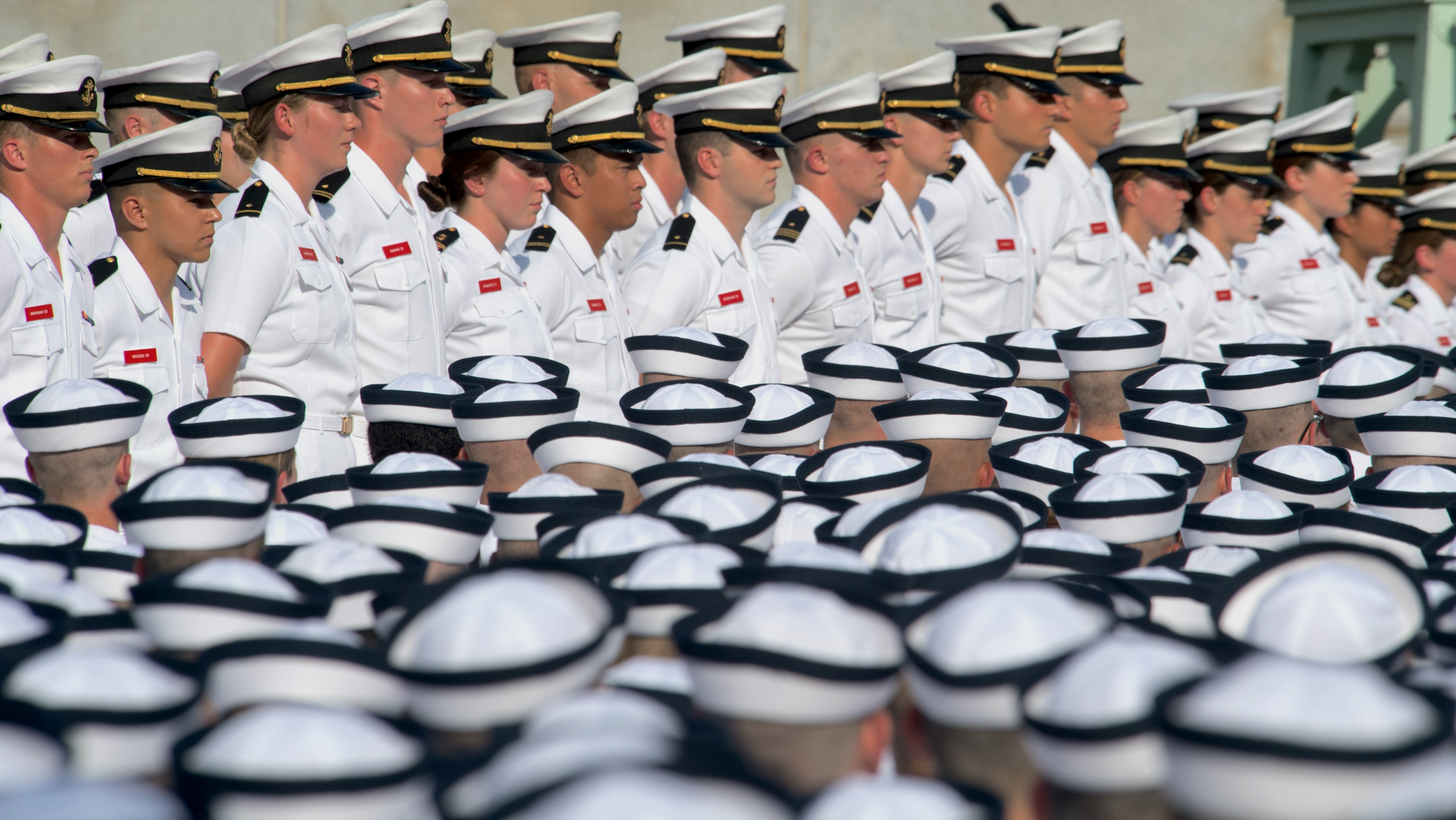 Image Source: USNI
Life as a Midshipman at the United States Naval Academy involves rigorous training and strict discipline. From day one, midshipmen are immersed in a physically and mentally challenging environment that prepares them to become future leaders in the Navy. The daily routine is demanding, with early wake-up calls and a packed schedule that includes academic classes, military training, and physical fitness activities. Midshipmen are expected to excel in all aspects of their training, fostering a strong sense of discipline and commitment to their duties.
The training at the Academy emphasizes character development and instills core values such as honor, courage, and commitment. Midshipmen are taught the importance of integrity and ethical decision-making, essential qualities for effective leadership in the military. In addition to their academic and military responsibilities, midshipmen also participate in various extracurricular activities, such as clubs and organizations, which further enhance their leadership skills and interests outside of the classroom. Overall, life as a Midshipman at the Naval Academy challenges individuals to reach their full potential and prepares them for a successful career serving their country.
Athletics and Extracurricular Activities at the Naval Academy
The Naval Academy strongly believes in the importance of physical fitness and teamwork, which is why athletics plays a vital role in the midshipmen's lives. With a wide range of sports offered, including varsity teams and intramural leagues, midshipmen have ample opportunities to compete and stay active.
The academy's athletic department is committed to developing well-rounded individuals, instilling discipline, and promoting leadership through sports. From football to lacrosse, swimming to soccer, the Naval Academy's athletic programs have a rich history of success, and many midshipmen have gone on to become professional athletes or represent their country at the highest level.
In addition to athletics, numerous extracurricular activities are available for midshipmen to explore their interests and expand their horizons. Whether joining a club or participating in community service projects, these activities provide personal growth and development opportunities. From language clubs to music ensembles and debate teams to cultural organizations, there is a diverse range of options to suit every midshipman's interests.
These extracurricular activities enhance the overall experience at the Naval Academy and contribute to the development of well-rounded leaders who will serve their nation with honor and integrity.
Notable Alumni and Success Stories from the Academy
One notable alumnus from the United States Naval Academy is Admiral Chester W. Nimitz. He graduated from the Academy in 1905 and became a highly respected commander during World War II. Admiral Nimitz played a significant role in the Pacific theater, leading the US Navy to victories in major battles such as Midway, Iwo Jima, and Okinawa. His leadership and strategic planning helped secure the Allied victory in the Pacific, earning him the title Commander in Chief of the Pacific Fleet.
Another success story from the Naval Academy is Vice Admiral Michelle Howard. She graduated in 1982 as one of the first women to attend and graduate from the Academy. Vice Admiral Howard went on to break many glass ceilings throughout her career, becoming the first African-American woman to command a US Navy ship and later the first woman to become a four-star admiral. Her exemplary leadership and dedication have been recognized with numerous awards and honors, highlighting her significant contributions to the US Navy and inspiring future generations of women in the military.
Naval Academy Museum: Preserving History and Heritage
The Naval Academy Museum is a testament to the rich history and heritage of the United States Naval Academy. Located on the picturesque grounds of the academy in Annapolis, Maryland, the museum serves as a repository of artifacts, memorabilia, and exhibits that chronicle the Academy's storied past. With its comprehensive collection of items spanning centuries, the museum provides a captivating insight into the proud tradition of naval excellence that has shaped the academy and its graduates.
Visitors can explore exhibits highlighting significant historical moments, from the academy's founding in 1845 to its present-day role in producing highly trained naval officers. From the stunning array of naval uniforms and weaponry on display to the interactive exhibits detailing the rigorous training and education that midshipmen undergo, the museum offers an engaging experience for all who pass through its doors. Whether you're a history enthusiast, a current or prospective midshipman, or simply interested in learning more about the naval heritage of the United States, the Naval Academy Museum is a destination not to be missed.
Community Engagement and Service Opportunities for Midshipmen
Community engagement and service opportunities are an integral part of the educational experience at the United States Naval Academy. As future leaders in the Navy and Marine Corps, midshipmen are encouraged to contribute to their local communities and positively impact society actively. Through various programs and initiatives, the Academy fosters a sense of civic duty and instills in its students the values of selflessness and service.
One of the ways in which midshipmen engage with the community is through volunteer work. They participate in various community service projects, from tutoring local students to helping with environmental clean-up efforts. These experiences allow midshipmen to develop a deeper understanding of the needs and challenges faced by their communities while also strengthening their leadership and team-building skills. The Academy actively encourages midshipmen to take the initiative and create their service projects, providing them with the necessary resources and support to make a meaningful difference.
Career Opportunities and Graduation Pathways from the Naval Academy
Upon completing their education at the United States Naval Academy, midshipmen have a range of career opportunities and graduation pathways. Graduates can be commissioned as United States Navy or Marine Corps officers. This offers them the chance to serve their country in various roles, such as fighter pilots, submarine officers, surface warfare officers, or intelligence officers, amongst many others. The Academy's rigorous training and academic programs prepare midshipmen for the demands of these positions, instilling in them the necessary skills and knowledge to excel in their chosen career path.
In addition to the military career pathway, graduates of the Naval Academy also have opportunities in civilian fields. The Academy's focus on leadership and academic excellence equips them with transferable skills that are highly valued in the professional world. Many graduates choose to pursue careers in fields such as engineering, business, law, medicine, and technology.
The extensive alumni network allows midshipmen to tap into a strong support system and gain access to a wide range of career opportunities in both the public and private sectors. With their strong discipline, integrity, and teamwork foundation, United States Naval Academy graduates are well-prepared to make meaningful contributions to society and succeed in their chosen paths.