Egypt is well-known for its ancient civilization and pharaonic monuments such as the Great Sphinx, the Egyptian Museum, the GEM (The Grand Egyptian Museum), Sakkara, and Dahshur. However, that is not all it has to offer. This article will examine some of Egypt's top military academies, histories, admission requirements, etc. Continue reading.
Egypt's Brief History
Egypt was settled as early as 6000 B.C. Over time, small villages merged to form states, giving rise to two kingdoms: Lower Egypt, which encompassed the Nile River Delta up to the Mediterranean Sea in the north, and Upper Egypt, which encompassed the Nile Valley in the south. (Because the Nile River flows from south to north, the ancient Egyptians considered the south to be "up.")
Egypt is home to the world's only remaining ancient wonder. Egypt has the only surviving monument of the world's seven ancient wonders. Only Egypt's Great Pyramid of Giza has withstood the test of time.
Top 5 Military Academies in Egypt 
Here's the list of top Egyptian military academies:
The Egyptian Air Academy, aka Egypt's Airforce Academy, trains Egyptian Air Force officers in Bilbeis, Sharqia Governorate. This academy is one of seven military academies in Egypt run by the Egyptian Armed Forces and was founded in 1951. Air Vice-Marshal Abd-El Moneam Hassan Shouman is currently the Egyptian Air Academy director.
Besides Egyptian Air Force personnel, the academy has trained cadets from many Arab countries, Malaysia, and Sub-Saharan Africa.
Egyptian air force training began in 1938 at the Royal Air Force-administered Almaza station near Cairo International Airport. This school received instructors, technicians, training aircraft, and curriculum. Military and police non-commissioned officers who were medically fit to fly were the first cadets. The first school had five "wings": Flying, Science, Technical, Cadets, and Administration.
Admissions & Curriculum Of the Egyptian Academy
The requirements to gain admission into the Airforce Academy are;
Prospective Applicants must be Egyptian "by heredity from forefathers." 

They must be unmarried, under 21, with "good manners" and "clean living." 
Cadets are split into "pilot" and "navigator" groups at the academy. The curriculum includes flying theory and practice, administration, humanities, computer science, and foreign languages.
Pilots and navigators graduate with bachelor's degrees, Egyptian Air Force commissions, and certifications. Pilots receive an international commercial pilot's license upon graduation.
More information about Egypt's Airforce Academy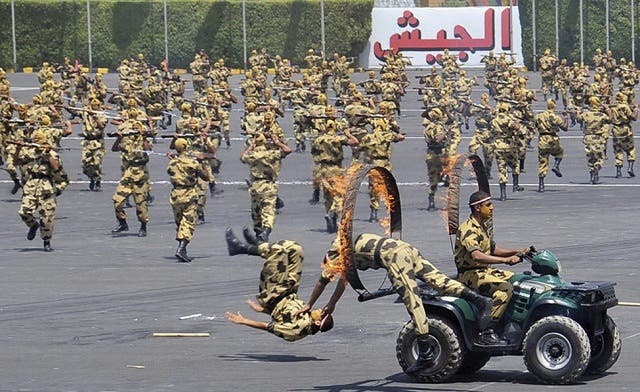 As one of the oldest military academies in Egypt, EGT is a prominent military school. Traditionally, Military Academy graduates become Egyptian Army officers. Other branches and commands of the Egyptian military may employ them.
Military Academy branches offer additional training and skills. Branches of Military Arts and Thunderbolt School offer extended study to produce elite army officers.
History
The first Military Camp in Egypt was founded in Cairo Citadel in 1811. After moving to Aswan in 1820, the military camp moved to Abbassia Military Barracks in El-Koba Bridge in 1908. In 1909, the base expanded and opened a military school.
The Academy began admitting sons of lower and middle-class Egyptians in 1936.
In March 1938, the Military School became the Royal Egyptian Military Academy. After the 1952 Egyptian revolution, Gamal Abdel Nasser inaugurated the Military Academy's current site on March 3, 1955.
Egyptian Military Academy Degrees & Curriculum
Military Academy degrees are of two types:
Military science bachelor's degree

University graduates who join the Egyptian Armed Forces receive a Military Studies Completion Certificate.
It also offers Language courses in English and Arabic for Sudanese and German officers.
More about the Egyptian Military Academy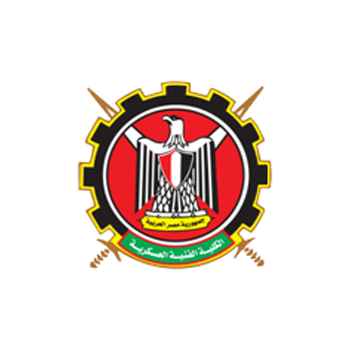 Egypt's scientific military college, the Military Technical College in Cairo, recruits engineers for the army. Former Military Technical College graduates become officers in various Egyptian military branches.
Professor Major General Ismael Abdel-Ghaffar Farag, B.Sc, M.Sc, Ph.D., commands. Major General Mohammed Medhat Mokhtar is his deputy.
Admission Requirements into Egypt's Technical College
Apart from degree requirements, Military Technical College applicants must be Egyptian citizens with Egyptian parents and grandfathers and good character and conduct.
Registration
The following tests must be passed before MTC admission: 
Basic science examination. 

Health exam. 

Fitness test. 

The College Board interviews all qualifying applicants.
A Ministry of Defense approval allows the college to accept international students. These applicants must meet Egyptian standards.
History
Egyptian Military Technical College was founded to help build a strong Egyptian army, a 23rd July revolution principle. The first step in building this army was considering modern armament and technologies. A technical military academy was needed to supply engineers to the new army.
Egyptian teachers began training at the College in 1960. Early groups received Ph. D.s in various fields at the Czechoslovak Military Academy between 1964 and 1975. Since 1977, later groups attended top French, British, and American universities. 1978, Czechoslovak faculty left, and the college relied on its staff.
As one of the leading military academies in Egypt, MTC graduates include thousands of B.Sc. engineer officers. International cadets have graduated from the Military Technical College thanks to Egypt, Arab, and African cooperation.

The military college Egyptian Naval Academy trains Egyptian Navy officers. It began in October 1946. Egyptian Naval Academy graduates become naval officers.
Historical of the Egyptian Naval Academy
The first 50 cadets entered Ras El-Teen Academy in October 1946. This group received basic military training at the academy for six months before studying at the Naval Academy for two years. The college moved to Abu Qir, Alexandria, in 1965 and extended the study period to four years, specializing in maritime navigation, missiles, artillery, underwater weapons, marine signal, and coastal artillery. Ten cohorts graduated under this system.
The Egyptian Naval College and the US Naval Academy in Annapolis began collaborating in 1988 to develop methodology, provide educational labs, and model educational aids. Entertainment was upgraded to compete with top naval colleges. With the latest American educational systems, simulators, scientific models, specialized laboratories, and training assistance, the Egyptian Naval College developed significantly.
After over 50 years, graduates from various countries took command of various navies, helping Egypt maintain good relations with other nations.
Admission requirements 
The Coordination Office of Military Colleges handles Naval College admission, which follows the same entry test stages. Naval College applicants must have a 60% high school diploma.
Academics
The student studies for four years in disciplines such as;
Military Science in General Maritime Science Specialized in Fundamental Engineering,

Physics Fundamentals,

Chemistry Fundamentals,

Administrative and Human Sciences Language
Graduates receive a Bachelor of Maritime Studies (second mate certificate). Graduates can pursue master's and doctoral degrees in military or civilian universities.
Egyptian Nasser Military Academy
Late President Gamal Abdel Nasser inaugurated the Nasser Military Academy on March 3, 1965. It is one of Egypt's top military schools. Advanced military education and training for Egyptian Armed Forces officers emphasizes leadership and strategic thinking. The Academy advanced the education of top military officers and civilian government officials.
The Center for Strategic Studies joined the Academy in June 1991 to complete the operational and strategic academic education system. The Academy improves educational performance based on advanced science and martial and civil arts.
It was the pinnacle of officer education with the National Defense College and Higher War College.
College Programs at Nasser Military Academy, Egypt
Nasser only teaches English and Arabic to native and international students from friendly countries. Examples of courses:
Higher War Course.

Course in Senior Leadership.

Course for Formation Leaders.

Afrika Strategie.

Early Leader Preparation.

Peacekeeping Forces Course.

Military History Teacher Training.

Course on Peacekeeping and Conflict Resolution.
Conclusion
In conclusion, Egypt's military academies are standard training grounds. They are suitable for any African aspiring for a military-style education, in addition to being home to one of the world's wonders and tourist attractions